Consistent recycling helps to conserve resources. DICOTA focuses on sustainable alternatives when selecting materials. The main material for our Eco BASE, Eco SCALE, Eco SELECT, Eco PRO as well as for the Eco MOTION collection is made out of 100% mechanically recycled PET. This material reduces burdens on the environment without compromising on quality, look and feel.
COLLECTIONS ECO BASE, ECO SCALE, ECO SELECT, ECO PRO AND ECO MOTION
Currently over 95% of the full DICOTA range is made of recycled material and each product gives a new live to 6-45 PET bottles. Since the launch of the ECO Products, DICOTA has produced over 1 million carrying solutions out of recycled PET. While doing so we've been able to give a new live to over 12 million PET bottles (0.5l).

MECHANICAL PET RECYCLING PROCESS
PET can either be recycled chemically or through a mechanical process. DICOTA relies on the mechanical recycling Therefore used drinking bottles are collected, sorted by colour and washed. After having stripped of their labels and caps, the bottles are crushed and cut into PET flakes. These flakes are heated to eliminate last impurities, then melted and transformed into dense pellets. The pellets are melted again and extruded into rough polyester fibre which is then brushed, stretched and spun into yarn. The yarn can be processed into various types of fabric. Those can either be purely made of recycled material or mixed with virgin polyester – tailored to the specific demands of the final product. As a last step, the fabrics are dyed in order to reach the colour needed to design stylish and ecologically sound DICOTA bags.
USAGE IN TEXTILE PRODUCTION
Synthetic fibres are the most popular fibres in the world – it's estimated that synthetics account for about 65% of world production versus 35% for natural fibres. Most synthetic fibres (approx. 70%) are made from polyester, and the polyester most often used in textiles is polyethylene terephthalate (PET). Polyester is a manmade fibre that is produced from oil and synthesized from petrochemical products by a process called polymerization. As a raw material, it is a clear, strong and flexible plastic that can be used in many ways. Every minute about 1 million PET bottles are sold worldwide. Still the majority of the world's virgin PET production (about 60%) is used to make virgin fibres for textiles; only about 30% is used to make bottles.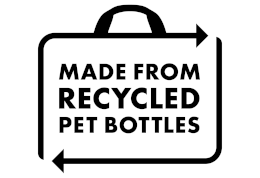 ADVANTAGES OF RPET TEXTILES
Recycling bottles and turning them into fibres comes with multiple advantages: preserving resources and minimizing waste. The purposeful reuse prevents plastics from ending up in landfills and oceans – where they take about 450 years to biodegrade. Studies show that recycling polyester uses above 50% less energy and cut down CO2 emissions by about to the same extent compared to virgin polyester. In order to ensure responsible social and environmental practices and chemical usage throughout the entire production, DICOTA requires all its suppliers for recycled PET yarns to comply with the Global Recycled Standards.