The design of notebooks has evolved steadily over the years as well as the way of working. Nowadays business became more mobile than ever. Agile working environments and flexible working changed the classic business model. Now we constantly travel and have to be prepared to work in a different environment.  Offering presentations, having a meeting in restaurants, working while flying or while in the train. DICOTA dockings and hub are the best accessories to accompany you in all these commuting times and business trips.
Maximum connectivity, whether on the move, at home or in the office
Specially designed for optimum, comfortable working with modern notebooks. The new USB-C docking stations and the USB-C 4-in-1 hub from DICOTA can be operated via plug & play on both Windows computers and Macs - no additional software is required. Furthermore, thanks to its portable design the USB-C cable can be hidden and stored inside the same device structure. Making it small and compact.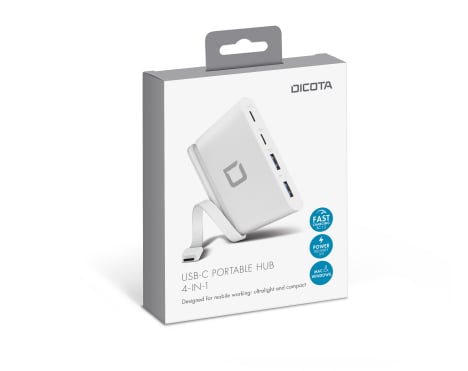 DICOTA USB-C Portable Hub 4-in-1
The new DICOTA USB-C Portable Hub 4-in-1 is a very compact yet powerful companion when travelling or in the office. 57 grams in weight and 90 x 16 x 15.7 mm in size, the USB hub has an integrated, foldable USB-C cable and provides a total of four USB ports: USB-C with additional PD3.0 technology (Power Delivery) for charging smartphones and notebooks (up to 100 watts), an additional USB-C port, an USB-A port and an USB-A port including BC1.2 charging function.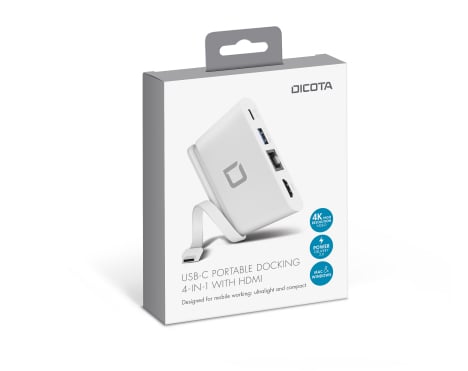 DICOTA USB-C Portable Docking Station 4-in-1 with HDMI
The DICOTA USB-C Portable Docking Station 4-in-1 with HDMI also comes in the same compact format. It is particularly suitable for users who want to easily connect their USB-C device to another screen - for example, to display content on a large 4K display during meetings and events. After connection via the space-saving integrated USB-C cable, the small docking station provides an HDMI port, a network socket (Gigabit Ethernet) and a USB-C port (with PD3.0) and a USB-A port (with BC1.2) on the front.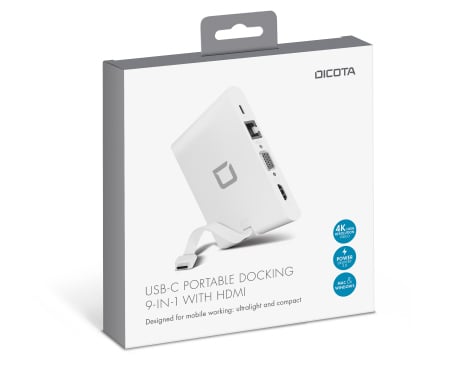 DICOTA USB-C Portable Docking Station 9-in-1 with HDMI
The DICOTA USB-C Portable Docking Station 9-in-1 with HDMI leaves virtually nothing to be desired in terms of connectivity. With a total of nine ports, it presents itself as an all-rounder on business trips or in the office. A single USB-C port can be used for four USB interfaces (2 x USB-C, 2 x USB-A), two display ports (HDMI up to 4K and VGA up to 2K), two card readers (SD and micro SD) and a Gigabit Ethernet socket. As with the other new DICOTA USB-C products, the USB-C connection cable is also permanently integrated in the 9-in-1 solution and can be conveniently stowed away at the 90-gram docking station during transport. With dimensions of 122 x 70 x 14 mm, even the most versatile of the new docking stations can be easily transported.