Anyone who has followed DICOTA over the last few years will have noticed that a lot has happened in the area of sustainability. Our most important collections BASE and PRO have been converted to Eco BASE and Eco PRO. And thus also the main material polyester to rPET polyester. Up to 45 PET bottles find a second life in a laptop bag.
The year is now over and let's look at what we have achieved this year.


We started 2022 with these two promises:
By the end of 2022, 95% of the carrying solutions (shoulder bags, backpacks and trolleys) in our portfolio will be made from recycled PET.
During the year, we reach another memorable milestone: 1 million Eco bags have been produced.
These are the results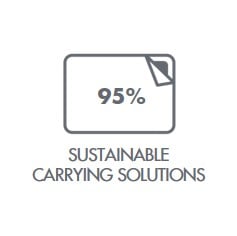 95% of the carrying solutions are made from rPET
With our new Eco MOTION collection, a new line of bags made from rPET bottles has been added to the portfolio. This means that five collections in the range are already made from sustainable materials. This makes us the clear number one for sustainable carrying solutions.
For the coming year, too, standing still is not an option; further sustainable carrying solutions will continue to expand the range. It is definitely worth keeping your eyes open.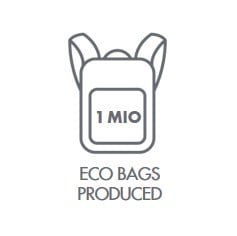 1 million Eco bags produced
We already broke the milestone of 1 million Eco bags produced in April this year. And it's going fast; currently almost 1.4 million carrying solutions made from rPET bottles have been produced, with more to come. With the CO2 savings, you could travel around the world by plane 400 times, an incredible number.
Discover all eco collections here.
Thank you to everyone who has chosen to contribute to a more sustainable world; by consciously choosing a bag made from recycled PET bottles, you are preventing used bottles from ending up in the ocean or landfills, where they can take up to 450 years to degrade. We look forward to seeing what you choose.